Smart-Bus 3 Button Switch Wall Panel - SB-3BS-EU
GTIN (UPC-EAN): 0610696254283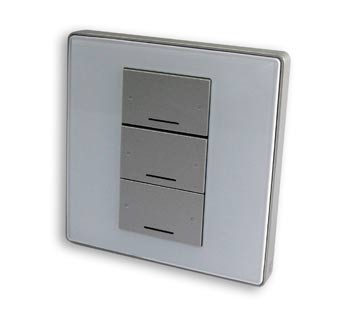 Elegant and easy to use wall panel that is soft programmed to enable control of lights, curtains, service++ the 3 Button switch has easy fascia color and material changing flexibility to help match any interiors. It has screw less mounting mechanism, security lock, easy upgrade mini-USB, re-locatable IR receiver probe, LED backlit buttons.
**Added function: Bigger buttons, Elegant aluminum surround and buttons, mini USB firmware upgrade port, easy connectors. Security lock screw to prevent vandalism, two sided button operation.
Control Compatibility:
• Lighting
• Music
• Curtains
• Moods
• Security
• Service
• Color
• Drapes
• Pumps
• Gates
WHY G4 (GENERATION-4) IS BETTER? DDP, FDP, 6B, 4B, 3B
| | | |
| --- | --- | --- |
| Switches and wall panels (Features compared) | Old Smart-BUS | New S-BUS G4 |
| Buttons and Surround Finish Material Improvement | Plastic | Aluminum |
| Glass Material Improvement | Thick & Bulky | I Phone Quality 0.8mm Glass |
| Back Module Size | Do not Fit all Countries | Fits all countries |
| Upgrading without opening the Device | Not Possible | By Mini USB |
| Ability to Snap Connect/Disconnect Cables | Not Possible | Snap In Connector |
| Ability to Locate IR receiver nearer to user location | Not Possible | Flexible with Snap in Connector |
| PCB Electronics Design Complexity | 2 Complex Boards | Single simple Board |
| User Graphics Interface | Standard | Improved Icons |
| Integration to Z-Audio with auto update | Manual | Advanced Auto |
| Fixed Display Panel (FDP) | Not Available | Available |
| Easy Backup and Restore using Configuration SW | Not Available | Available |
| Work on Both BUS and Cloud Technology | Not Possible | Possible |
| Buttons Size and Workability of Soft switches (1-6 Gang) | Smaller, single side operation | Wider and Bigger with Both sides Operation |
| Panels Security not to be simple to remove from wall | Not Secure | Secured by Clamps, Magnets, and screw Locks |
| Metal Plate Twist and Screw Installation Simplicity | Not Possible | Possible |
| Design Standards | Asian Curved Design | Modern European Touch |
| Anti static Electricity Grounding and discharge | Not Part of Original Design | Embedded and Implemented in Design |
| Programming and Pairing Manually to Lighting, Dimming, HVAC, and Music | Not Possible | Easy |
| Flexible Fascia changing (many varieties) | Difficult, Very Thick | Easy |
| All Other Standard Smart-BUS Advanced Automation Features | Included | Included |

TECHNICAL DATA:
Added features
Lockable keys/ buttons
Lockable IR receiver
Changeable fascia colors
LED backlit buttons and LCD
Reloadable IR receiver 15m
Screw less mounting
Easy sBUS connector tech.


Control Applications
lighting, security arming, motorized
shades, moods and
scenes, on/off music, fountains,
irrigation, gates, LED
color, service request, panic,
lifts, fountains, gates..etc.


User Controls
• user control buttons
• Diagnostics + BROADCAST


Button behavior
Single click (on/Off toggle)
Double click (mood/Macro)
Keep press (dim/ramp)


Programming
• Manual Pairing to Lighting,
• Advanced Software Configuration
& Programming


Compliance
CE Mark EMC


Total Gangs
3 gangs


Control IO
1 x Advanced RS485 S-BUS
serial port links (both train &
screw link types)


Upgrade IO
1 x mini USB port (to connect to
special programming board)


Operation Protection
• BUS Rv. Polarity Protection
• BUS Short Circuit Protection


SBUS DC Supply
24VDC with flexible tolerance
between 8-32VDC. Flexible
ability to add power supply as
to be needed any where
Power consumption: 25mA


Installation
• wall Mount metal frame twist
• Magnetic screw less mounting
• Advanced security locking
• Easy sBUS connector tech.


Operating Environment
0ē to 45ēC ambient temperature
20% to 93% RH


Enclosure material
Aluminum, Glass, and poly


Dimensions & Weight
W85mm x L85mm x H12mm x
D8mm. Backed weight 0.2 kg
Q & A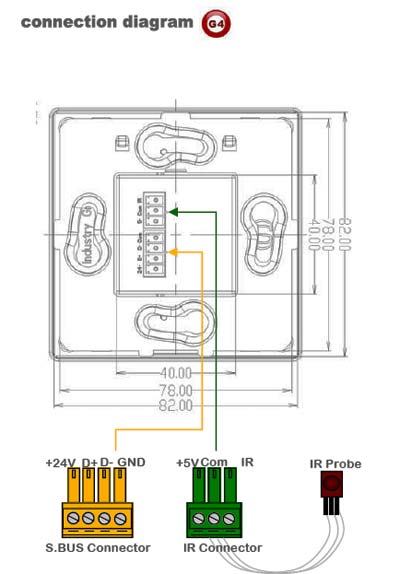 ---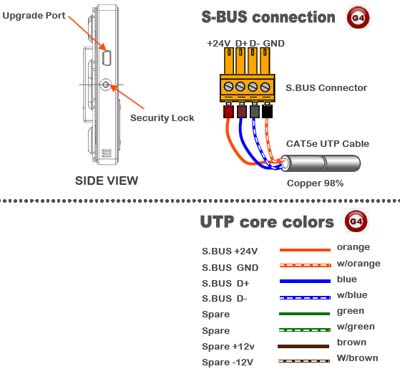 Softwares and Firmwares
Applications
• Homes
• Hotels
• Restaurants
• Luxury Boats
• Schools
• Factories
• Prayer Halls
• Commercial centers